Facebook just turned 12 (yes, it's okay if that makes you feel super old.)
This year, the social network is marking the milestone, which it has been dedicated to "Friends Day," with a new personalised video feature that weaves together memories with friends into shareable video clips.
The videos are similar to the company's "year in review" videos that Facebook surfaces at the end of the year. But rather than highlights from the past year, the Friends Day videos are meant to highlight "special moments with your friends," according to Facebook.
Facebook says most people should see the videos at the top of their News Feeds by mid-day Thursday but you can also find them by selecting "watch yours" after viewing a friend's video. Facebook will automatically add photos the first time you view it but, as with the year-end videos, you can customize your Friends Day clips before you share them.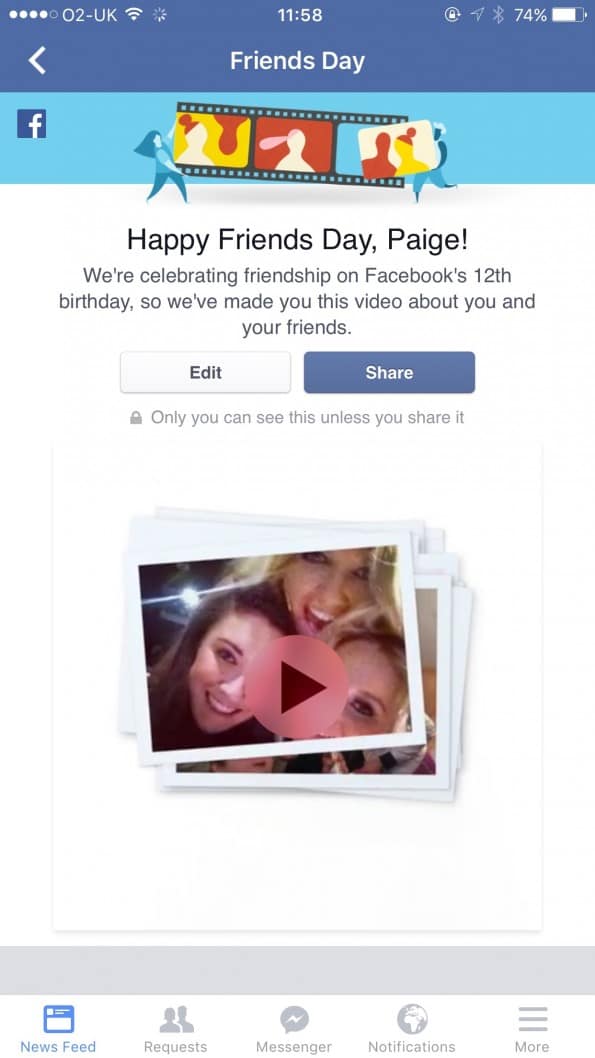 Facebook's 12th anniversary follows a year of other significant milestones for the social network. The company now counts more than a billion daily active users of its flagship app, and is closing in on a billion daily actives on mobile as well. WhatsApp also just passed the 1 billion user mark and Messenger, the once-maligned Facebook offshoot, is also approaching 1 billion daily active users.