In the week that political resignations, leadership battles and market turmoil dominated news headlines, a certain monster-hunting mobile game was busy making waves online.
Pokemon Go's mixture of gaming and reality has proved a huge success.
SimilarWeb says players are using Pokemon Go for an average of 43 minutes a day – that's more than Whatsapp, Instagram or Snapchat.
Since the game makes players walk around to hunt Pokemon, it means an average man playing the game for seven days would burn 1,795 calories – and a woman would burn 1,503. Converted into a tastier measure, that could be seven small chocolate doughnuts for a man – or six for a woman.
According to data from SimilarWeb,
"Pokémon Go" has already been installed on more Android smartphones in the US than the dating app Tinder, which is itself a runaway hit. As of Friday, the game was on 5.16% of all US Android phones — versus just over 2% for Tinder.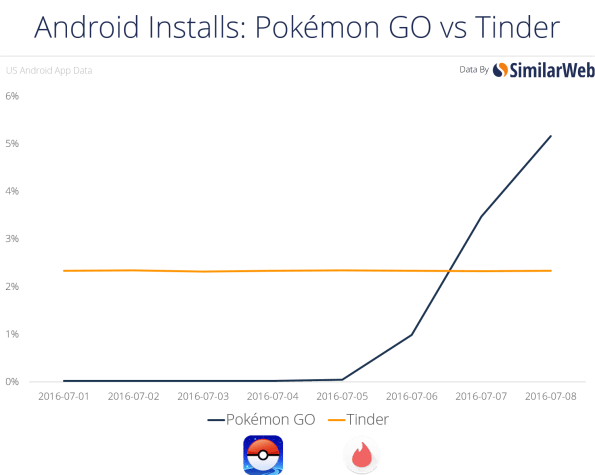 Daily active users measures what proportion of the smartphone population uses an app on any given day. And on Friday, just over 3% of US Android owners were using the game daily — against about 3.5% for Twitter — with Pokémon Go's rate rising fast as new users continue to install the app.